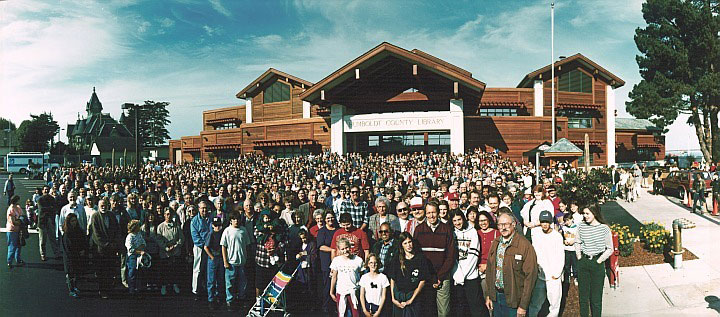 We are the Friends of the Redwood Libraries, volunteers whose goal is to support the Humboldt County Library System.
The Annual Meeting of the Friends of the Redwood Libraries will be held on Saturday, June 23, at 1:30 p.m. in the meeting room of the Eureka Main Library at 1313 Third Street. Candidates for officers and board members will be elected.
The Friends Community Service Award is given annually to a resident in recognition of their meaningful contribution to Humboldt County. This year the award will be presented to Eric and Viviana Hollenbeck to recognize their long-standing support of the community. 
Please join us for a memorable Annual Meeting.There will be drawings for door prizes, and light refreshments will be served afterward.
It's hard to believe, but it's already time to think about the 2019 Children's Art Calendar!
If you have a child or know of one who would like to submit a picture, please let them know. For more information or to download an application form, see our Art Calendar Information page.
April 27 – 28
Fridays, 10:00am – 5:00pm (Members Only)
Saturdays, 10:00am – 3:30pm (Public Sale)
The Friends of the Library Serendipity Store is located on the 2nd floor of the Eureka Main Library, 1313 Third St. in Eureka. We have a large selection of new and vintage books, magazines, and videos, with inventory added daily.
Thank you for your interest in supporting the Friends of the Redwood Libraries! It is through the generosity of our new and existing members that we are able to support our local libraries.
We offer two convenient ways to join. You may download and print the Friends of the Redwood Libraries membership form and mail it or bring it in with your payment. Or you can join or renew your membership online.