Friends of the Redwood Libraries
Calvin and Hobbes and Bloom County

Do you miss Calvin and Hobbes? How about Berk Breathed and Bloom County? Never fear, Serendipity has a few choice volumes of each. There are just a few, so get'em while they're hot. In the Serendipity Book Store.
---
All Aboard! Trains, Planes, and Ships

Serendipity received a generous donation of books of train lore a few weeks back, along with a number of airplane and ship books. Vintage and new, many coffee table size, and some back issue magazines. Just the thing for loco motion lovers. The train magazines were quickly snapped up, but many choice books are still on the shelves. In the Serendipity book store.
---
The Music Goes 'Round and 'Round

Serendipity Book Store sold lots of vintage sheet music these last few weeks, thank you Redwood music lovers! Recently we received a music magazine donation. The magazines include the sheet music of popular songs, of course, as well as tips on playing blues, jazz, rock and pop. All magazines are just 25 cents each, although we're always ready to make a deal for quantity.
---
Poets and Writers and Readers, Oh My

For those of you who have resolved to get published this year, or to just get better, get in on the ground floor with our Poets & Writers magazines, great tips and advice for just a quarter (25 cents each). At the Serendipity Book Store.
---
FRL Supports the Author Festival
The Humboldt County Children's Author Festival Presents: Read Across the Universe! Coming in 2015. Check the Author Festival Website for information and updates.
---
The 2015 Children's Art Calendar Sponsors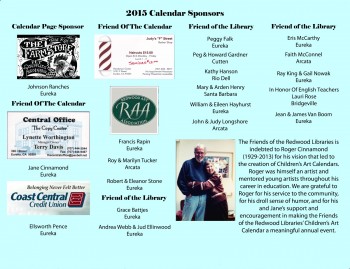 Thanks to our generous supporters of the 2015 FRL Children's Art Calendar. It is through their support that we can offer this Calendar for just $5. Special thanks to The Central Office for their help in designing the Calendar, and producing the Calendar 'At Cost'.
---
78rpm & 45rpm Records Return To Serendipity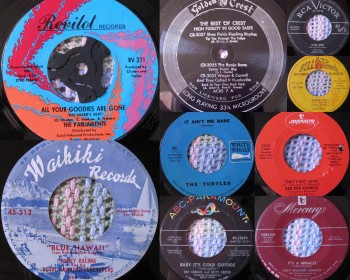 Have you seen the eclectic mix of blues, jazz, pop, and country records, now in Serendipity Book Store? Lots of artists you know, many artists you'll be happy to stumble across, all singing and playing lost gems from an earlier age. All records just 25 cents each.
---
All New 'Old Friends' in Serendipity
Buddy, can you spare a buck?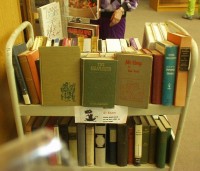 What's old can be new again. Even jet planes have rear view mirrors. Relax, try a little 'Old Gold'.
'Freshened' every week with 'new' Friends.
Incoming up top. Book Sale bound at the bottom.
---
Rack in the Back Freshened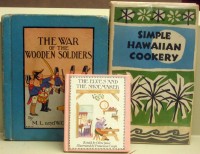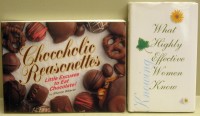 The Name Your Own Price rack in the back of Serendipity Book Store has been freshened with new little pocket books and big coffee table books. Lots of new, old, eclectic, and informative books. The perfect little something for your pocket, or great big scenic book for your arm chair travel.

---