Friends of the Redwood Libraries
50th Anniversary FRL T-Shirt Sales
The Friends of the Redwood Libraries have commissioned commemorative T-shirts for our 50th Anniversary celebration. If you would like to get in on the fun, you may order a T-shirt (or hoodie!) in a variety of sizes and colors, with this logo in white on the upper left side. For perspective, the tree is about 2 1/2 inches tall on the shirts.
To order a shirt (or more than one!), download & fill out the order form and mail it with your check to:
Debbie Reis
1180 Adkins Road
McKinleyville, CA 95519
Make checks out to FRL.
Orders must be received before May 12th.
T-Shirts must be picked up in person at the Serendipity bookstore in the Eureka Main Library. You will be notified when T-shirts are ready for pickup.
If you have any questions, contact Debbie at debreis@att.net or call her at 839-3019.
Download the T-Shirt Order Form
For styles, sizes, and prices, download the options page here.
More color options may be viewed at www.companycasuals.com.
---
Spring Book Sale!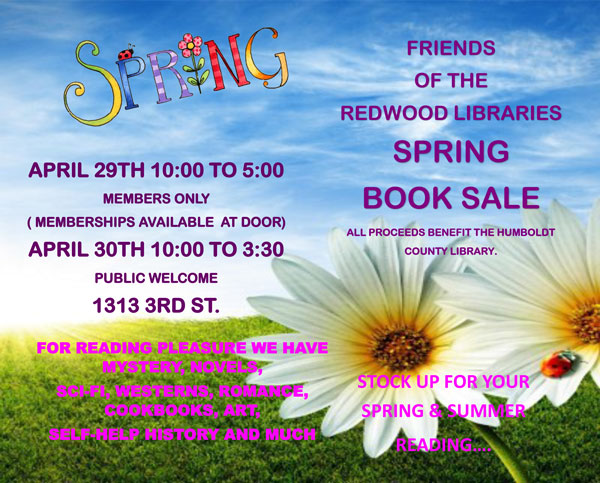 ---
The Tale of the Sale: Jan 29-30, 2016
Thanks to all our Redwoods Friends for making this sale such a success! Next sale: April 29-30.
---
Hagopian Gallery 2016 Jan Part 2
Click the Pic to see the Big Picture
---
Winter Book Sale! Jan 29-30

It's time to stock up on essentials while saving big bucks!
---
Hagopian Gallery 2016 January
Click the Pic to see the Big Picture
---
Serendipity Specials – November – Sets
Great Deals on series books. Serendipity Book Store, Eureka Library 2nd Floor.
---
What's New – October
---
Literate Post Cards and Mini Art

Whether you're sending a message, or styling your walls, these one-of-a-kind post cards are sophisticated stand-outs. In the Serendipity Book Store, $2 each.
---
Book Marks ala Fabulous!

Distinctive book marks for the discerning reader. Each book mark is one-of-a-kind. $2 each, in the Serendipity Book Store.
---