Friends of the Redwood Libraries
2017 Children's Art Calendar Deadline
Deadline Reminder: Aug 2 is the cutoff for submissions. Download an Art Submission Form by clicking here.
In addition to the artwork, FRL is looking to private and business sponsors to help defray that cost of the Calendar, making it possible to offer the Calendar at an affordable price for local families. Download a Art Calendar Sponsor Form by clicking here.
---
Parents! High Alert! Set your kids and young adults up for success with books to treasure. Gift them with books to tickle their fancy, and light their way.
---
Hagopian Gallery, July

Redwood Art Association Flower Exhibit
---
Buck-A-Bag Aug 5, Aug 6

Our annual supersized sale is right around the corner, and it will be bursting at the seams with quality fiction and non-fiction.
---
Literate Post Cards and Mini Art

Whether you're sending a message, or styling your walls, these one-of-a-kind post cards are sophisticated stand-outs. In the Serendipity Book Store, $2 each.
---
Book Marks ala Fabulous!

Distinctive book marks for the discerning reader. Each book mark is one-of-a-kind. $2 each, in the Serendipity Book Store.
---
2016 Art Calendar Sponsors

The FRL 2016 Children's Art Calendar will go on sale at the Author Festival. We thank the generous sponsors who have made this Calendar possible.
---
78rpm & 45rpm Records Return To Serendipity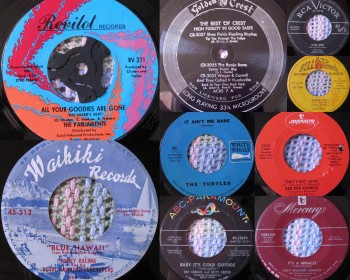 Have you seen the eclectic mix of blues, jazz, pop, and country records, now in Serendipity Book Store? Lots of artists you know, many artists you'll be happy to stumble across, all singing and playing lost gems from an earlier age. All records just 25 cents each.
---