Friends of the Redwood Libraries
FRL Supports the Author Festival
The Humboldt County Children's Author Festival Presents: Read Across the Universe! Coming in 2015. Check the Author Festival Website for information and updates.
---
Nov 22 Raffle Items Part 1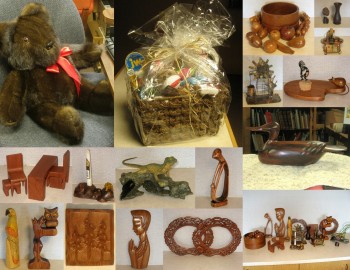 It's a fabulous line up. The headliner is a handsome Mink Teddy, crafted from a vintage stole. Then there is the big basket of dog goodies from the Farm Store.
Then there is a pool of handsome created by or reconditioned by local Humboldt artists. There is a redwood bowl filled with wooden fruit; a small burl on a stand;  a small wooden vase; a reconditioned windmill music box; a small kokopelli figure; a redwood cheese cutting board with resident redwood mouse; an ironwood duck; a miniature redwood desk and chairs; a redwood burl candle holder; a lizard on a rock; an african acacia mother and child; a parrot of unknown wood; a redwood snoopy and owl figure; a redwood relief; an india wood praying figure; and a pair of oval ironwood picture frames.
---
Nov 22 – About the Raffle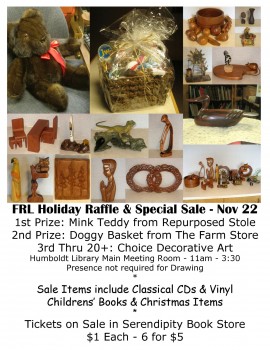 The first # selected wins the Mink Bear. The second # selected wins the Big Dog Basket. All other numbers drawn may choose from a pool of over 20 raffle items, first come, first choice. So although you do not have to be present at the Nov 22 3pm drawing to win, the sooner you stop by the Serendipity Book Store, the wider your choice.
The special Serendipity 15th Anniversary Holiday Sale will include: children's picture books, chapter books and stories and music on cassette tapes; holiday themed craft books, cookbooks, fiction and nonfiction as well; a huge amount of CD's and records for sale, mainly classical and bluegrass. Books are 50 cents hardback, 25 cents paperback. CDs are $1, LPs and Cassettes are 25 cents each.
---
The 2015 Children's Art Calendar Sponsors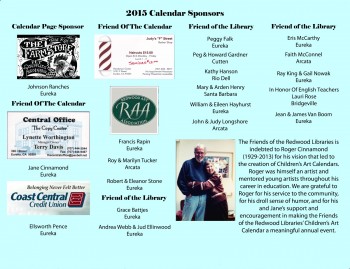 Thanks to our generous supporters of the 2015 FRL Children's Art Calendar. It is through their support that we can offer this Calendar for just $5. Special thanks to The Central Office for their help in designing the Calendar, and producing the Calendar 'At Cost'.
---
78rpm & 45rpm Records Return To Serendipity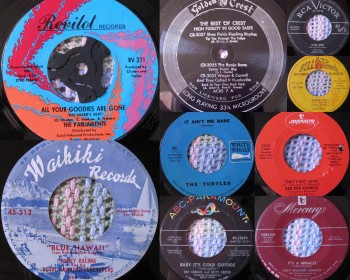 Have you seen the eclectic mix of blues, jazz, pop, and country records, now in Serendipity Book Store? Lots of artists you know, many artists you'll be happy to stumble across, all singing and playing lost gems from an earlier age. All records just 25 cents each.
---
All New 'Old Friends' in Serendipity
Buddy, can you spare a buck?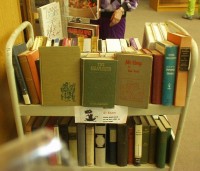 What's old can be new again. Even jet planes have rear view mirrors. Relax, try a little 'Old Gold'.
'Freshened' every week with 'new' Friends.
Incoming up top. Book Sale bound at the bottom.
---
Classy Art Book Marks for Classy Books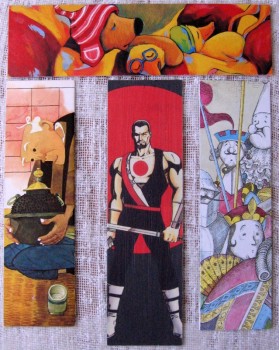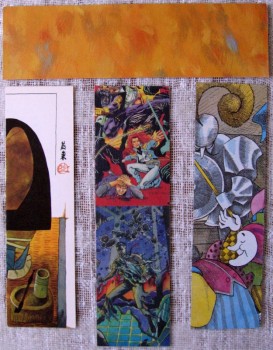 When I'm 'Out and About', any old piece of paper will do to mark my place for my traveling book buddy. When I'm home, however, I usually have 3 or four books going at the same time, and for the home team I like to use my 'A' team of book marks. Thanks to the talents of Dolores Guffey I have a few stellar literary book marks, and thanks to some local artists I have some classy art book marks. Both are available at the Serendipity book store for just $2 each. You get a cool way to hold your place, and you help support your Humboldt library system, a terrific win-win situation.
---
Rack in the Back Freshened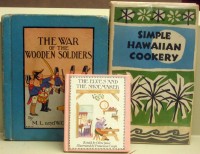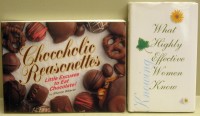 The Name Your Own Price rack in the back of Serendipity Book Store has been freshened with new little pocket books and big coffee table books. Lots of new, old, eclectic, and informative books. The perfect little something for your pocket, or great big scenic book for your arm chair travel.

---