Friends of the Redwood Libraries
2017 Children's Art Calendar
It's calendar time again, and the FRL is looking for the best from our young Humboldt artists. The theme is once again 'Favorite Book or Book Character'. The imaginative, colorful, bold entries that we get every year are a joy, and there is every hope that this year will be equally exciting. Download an Art Submission Form by clicking here.
In addition to the artwork, FRL is looking to private and business sponsors to help defray that cost of the Calendar, making it possible to offer the Calendar at an affordable price for local families. Download a Art Calendar Sponsor Form by clicking here.
---
2016 Annual Meeting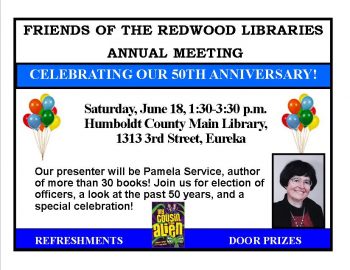 You are invited to attend the Annual Meeting of the Friends of the Redwood Libraries!
SATURDAY, JUNE 18, 1:30 – 3:30
HUMBOLDT COUNTY LIBRARY 1313 3RD STREET, EUREKA
Elections will be held and Victor Zazueta, Library Director, will give us an update on "the State of the Library".
As always, there will be great door prizes! And…refreshments will be served.
---
The Tale of the Sale: Apr 29-30, 2016
Thanks to all our Redwoods Friends for making this sale such a rip-roaring success! Next sale: Buck-A-Bag (yes!) Aug 5-6.
---
Literate Post Cards and Mini Art

Whether you're sending a message, or styling your walls, these one-of-a-kind post cards are sophisticated stand-outs. In the Serendipity Book Store, $2 each.
---
Book Marks ala Fabulous!

Distinctive book marks for the discerning reader. Each book mark is one-of-a-kind. $2 each, in the Serendipity Book Store.
---
2016 Art Calendar Sponsors

The FRL 2016 Children's Art Calendar will go on sale at the Author Festival. We thank the generous sponsors who have made this Calendar possible.
---
78rpm & 45rpm Records Return To Serendipity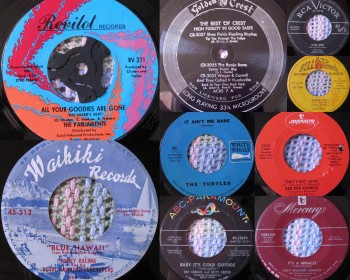 Have you seen the eclectic mix of blues, jazz, pop, and country records, now in Serendipity Book Store? Lots of artists you know, many artists you'll be happy to stumble across, all singing and playing lost gems from an earlier age. All records just 25 cents each.
---