Friends of the Redwood Libraries
From the Internet to Serendipity

Introducing our 'Hard to Find and Collectibles' shelf in Serendipity Book Store. These are books recently retired and reduced in price from our internet book store.
.
---
Whodunnit First Editions in Serendipity

On the table, in the store, just $3 each. Investigate which ones are signed by the author.
.
---
The Great War (WW1) Photo Journal

Coming to the Serendipity 'Rack In The Back': Around The World With A Camera; Special War Edition, Photographs From The Battlefield. 1919, 14 1/4″ x 10 1/4″. Illustrated hard cover, with B&W photos and some color illustrations.
.
---
The Tale of the Sale (Apr 17-18)

FYI, the FRL April 17-18 book sale was a rip roaring success! Thanks to everyone who contributed their time to make it success, including everyone who plunked down their hard earned cash for a bag of books. 100% goes to our Humboldt Libraries. Next up: our once-a-year Buck-A-Bag Sale, Aug 7-8. See you there!
.
---
Get On Board The 2016 Art Calendar
I am so excited! More fine artwork from our local young Redwood artists will soon begin arriving. Go online at eurekafrl.org/calendar to download art submission forms and sponsor support forms.
---
Unique Book Marks and Post Cards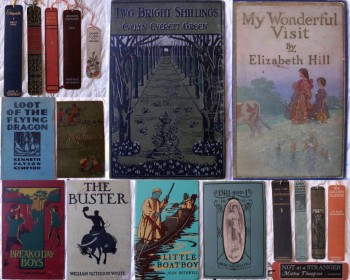 Dolores Guffey has provided the Serendipity Book Store with a great new batch of unique and classy book marks saved from distressed books that were headed to recycle.
Along with the 'new' vintage book marks, Dolores is providing Serendipity with 'new' vintage post cards salvaged from the covers of distressed books.
FYI, Dolores Guffey is a local artist who regularly has displayed her book works at the Humboldt County Library, along with her fellow book artists.
Drop by, take a look. Pick up a book mark or post card for yourself, or for that book lover in your life. Thanks, Dolores!
---
Fresh Stock of Music CDs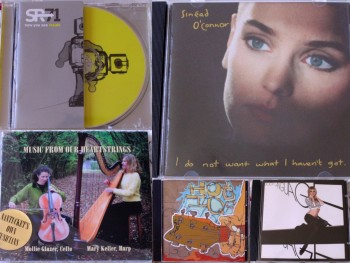 Come pan for music gold on our CD rack outside the Serendipity Book Store. Here is where I discovered that I loved Lyle Lovett (who knew!?), that Nana Mouskouri can sing the blues, and that Bluegrass is actually really good. Still just $1 per disc.
.
---
2015 Art Calendar Sponsors

Thanks again to the generous sponsors of the 2015 Children's Art Calendar. You're the Best!
(Click pic to view)
---
FRL Supports the Author Festival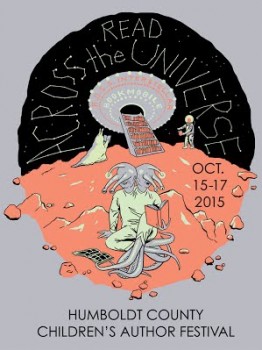 The Humboldt County Children's Author Festival Presents: Read Across the Universe! Coming in 2015. Check the Author Festival Website for information and updates.
---
78rpm & 45rpm Records Return To Serendipity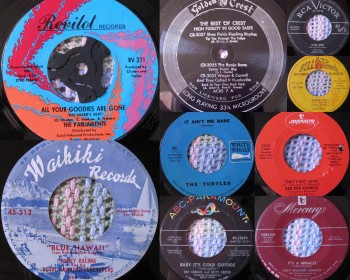 Have you seen the eclectic mix of blues, jazz, pop, and country records, now in Serendipity Book Store? Lots of artists you know, many artists you'll be happy to stumble across, all singing and playing lost gems from an earlier age. All records just 25 cents each.
---