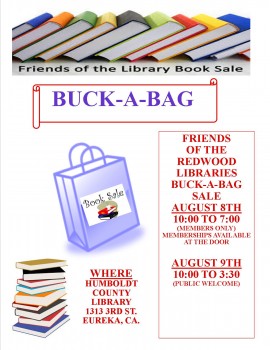 The Friends of the Redwood Libraries is having its Annual Buck-A-Bag Book Sale on August 8 (for FRL Members) and August 9 (open to public). We need your help to make the Buck-A-Bag Sale a fabulous success.
We are looking for volunteers to help set up and breakdown the book sale in the garage and the meeting room. Moderate good will, dependability, strength and stamina would be nice.
The meeting room is set up August 7 from 8 am to 12 noon.
The garage is set up August 8 from 8am to 10am
The meeting room and garage break down is 8/12 from 8 am to 12 pm.
We are also looking for volunteers to manage the desks during the sale. Most shifts are about 2 hours. Patience, friendliness, and the ability to make change are big pluses.
Our location:
Humboldt County Main Library
1313 Third Street
Eureka, CA 95501
Contact: frlnews@eurekafrl.org or Susie Freese 445-5844
Please help make the FRL Buck-A-Bag Book Sale a cosmic success!