FRL 2014 COMMUNITY SERVICE AWARD GOES TO THE WOMEN OF CENTRAL OFFICE—THE COPY CENTER
Whenever the need arises to solve a problem or get a design idea for our printing projects we go to Terry, Lynette and Terri at The Central Office—the Copy Center, in Eureka, and we are never disappointed.
Terry Davis and Lynette Worthington have run of The Central Office for over 27 years. Terry and Lynette bought the office 14 years ago, and Terri Vanderhoff has been part of the team for all of those years.
While we at the Friends of the Redwood Libraries like to think we are "the favored ones", we also know that these fabulous women are there to help all local organizations and businesses with their printing, be it brochures, newsletters, calendars (yes, our Children's Art Calendar), and all printing projects.
We are proud and happy to present the FRL Community Service Award to The Women of Central Office—The Copy Center.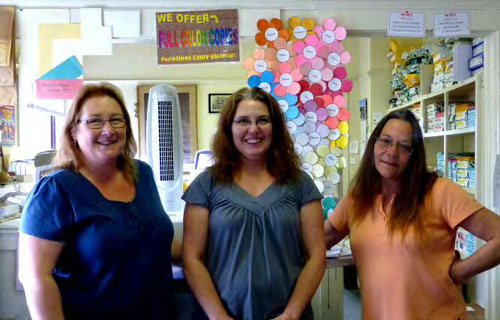 THANK YOU: Terry Davis and Lynette Worthington, Manager/Owners; and Terri Vanderhoff