Serendipity Store Tour-Part 1d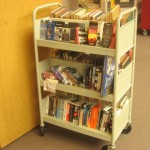 To the right of the door is our Books on Cassette Tape and Books on CD rack. Unlike music CDs, all Books on Media are sold as titles. Books on Cassette are just $1 a title. Books on CD are just $3 a title. At these prices it's hard to keep them on the shelf. Almost all Books on Media are found on this cart. Occasionally a Bible on Tape may be inside Serendipity. These are hot sellers, and very popular with the 'catch and release' crowd. Some titles are sold many multiple times, and we are always hoping for generous donations of material to keep the merry-go-round spinning. Do you have any Books on Tape or CD you would be willing to donate? They would be greatly appreciated!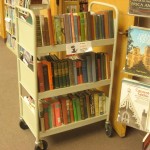 On the flip side of the cart are our 'Old Friends'; books from the 50s and earlier. Popular in their day, they have weathered the march of time and are still capable of entertaining or informing. A mix of fiction and non-fiction, some with wonderful illustrations or photography, this is one section that is often raided by book sellers and collectors. At just $1 a book, I'm not surprised. I got my First Editions of 'Black Boy', 'Native Son', and 'Sad Sack' from these shelves, as well as 'The Civil War in Pictures'. If you are willing to look beyond 'new and shiny', there is gold in them thar hills.