FRL 2014 Annual Mtg – More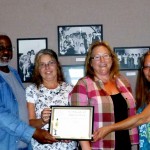 Pres. Ray King presented the Community Service Award to the Women of The Central Office—The Copy Center. Lynette Worthington, Terry Davis, and Terri Vanderhoff accepted the plaque and the honor of choosing how the $2000 Friends' donation to the Library should be
used.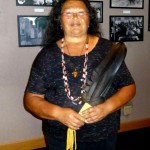 Susie Freese introduced The guest speaker for the afternoon, Cheryl Seidner, who kept the rapt attention of the audience by telling the story of the Wiyot people. She has been an invaluable spokesperson and activist for this important cause, and she spearheaded the campaign to have the Tulawat Villiage site and about 60 acres of Indian Island returned to the Wiyot tribe.
After a wonderful afternoon, the meeting was adjourned for door prize drawings and refreshments. Thanks go to Eileen Hayhurst, program chair, and everyone who provided food and door prizes, those who attended, and all who helped to make the 2014 Annual Meeting a success.