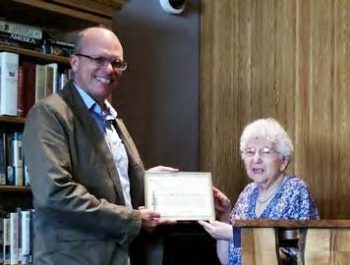 We had another successful Annual Meeting on May 20. Officers were elected and Library Director, Vanessa Christman, updated us on the "State of the Library".
Stephanie Hillman presented the Community Service Award to Scott Brown and Eureka Books. When asked how they would like the $2,000 gift to the library spent, Scott said they would like it to be used to purchase graphic novels.
Pamela Foster gave a fascinating presentation about her life growing up in Humboldt County. And, yes, she made Big Foot come alive for us!